Dear Parents,
This week we were able to hold a wonderful open-air Assembly at the Duke of York's led by our 30 strong Brass Ensemble and including a fine reading by Tiger Rose Buckley-Sobhani of William Wordsworth's Lines Written in Early Spring.  It was a tremendous way to celebrate the last three weeks of this extraordinary term and to look forward to the Summer Quarter with the hope that everything will be able to function as near to normal as possible from 21 April. This should include a resumption of Friday Clubs; details will be emailed during the holidays.
Image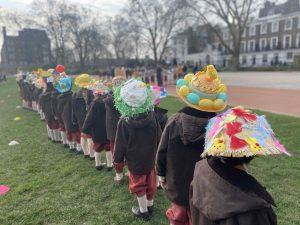 Image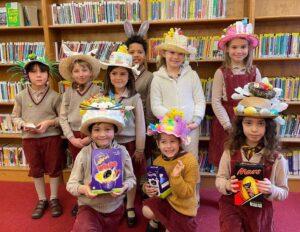 This week has also seen the Small, Lower and Middle Schools' displays of "Easter Bonnets". Lower School paraded on Wednesday in front of the whole school at Assembly and then around the local area. Small School and Middle School have been parading today. Mrs Rickards has asked me to pass on her thanks to the Middle School Parents for their support today. "So many of them turned up for the parade and cheered us along our route around Chelsea. Just wonderful!"
The boys and girls in Upper Senior School and Upper Transitus have had an excellent week organising and setting up "un marché français" in Pont Street selling French specialities and spending some euros. As you can see they fully embraced the spirit of the occasion. Thank you to Mme Fauré for organising this.
We can also congratulate our girls from Upper Transitus on a splendid set of results in the entrance examinations to secondary schools including eight scholarships:
Brighton College
Megan Amako – Sport Scholarship
Queens Gate
Iman El Saie – Art Scholarship
Tiger Rose Buckley-Sobhani – Drama Scholarship
Queens College
Mia Bouhabib – Major Academic Scholarship
Bliss Dawson – Academic Scholarship
Iman El Saie – Major Academic Scholarship
South Hampstead High School
Mia Bouhabib – Academic Scholarship
Streatham and Clapham High School
Atrisa Panoutsos – Music Scholarship
Image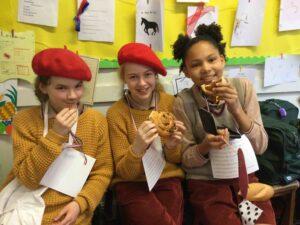 Image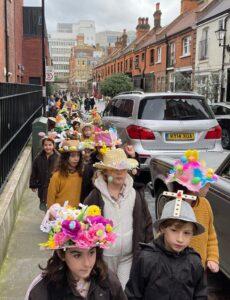 Image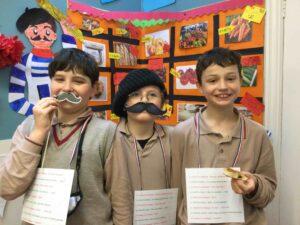 Image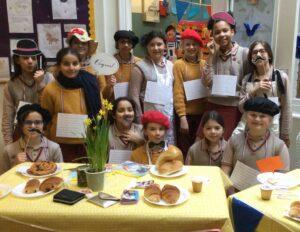 I am very pleased to report that we have had no cases of Covid amongst the staff or pupils this term. We are continually reviewing the measures we are taking to keep the whole school as safe an environment as it possibly can be and are led by the guidance we receive in the daily email we receive from the Department for Education. All our staff and the pupils in the Sixth Form are being asked to continue their twice weekly testing during the holidays. Pupils in other year groups are not part of this testing programme. Below is yesterday's advice from the DfE.
On advice from Public Health England (PHE), pupils in primary schools and children in nursery settings are not included in the rapid asymptomatic testing programme. 
PHE has advised that there are currently limited public health benefits to testing primary-aged pupils with lateral flow devices (LFD). In addition, primary-aged pupils, particularly younger children, may find the LFD testing process unpleasant and are unable to self-swab. 
We are advising that primary-aged pupils should only be tested if they are symptomatic, in which case their families should follow the guidance for households with possible or confirmed coronavirus (COVID-19) infection and book a PCR test for the child.
We are expecting the DfE to update their advice to schools at some point over the Easter holiday as part of the gradual lifting of restrictions. Should this have a significant impact on the day-to-day running of the school we will of course be in touch with you as soon as practicable.
Best wishes, 
Richard Townend